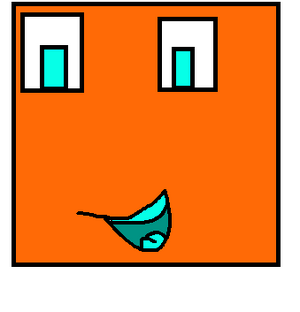 Geo is a lean, bright orange Metric with turquoise eyes and a love for Kaul and Pinky. He is lazy and stubborn.
Basic Details
Edit
Geo has some basic things you can remember, here's a wiki all about him. Geo sometimes ignores Kaul but pays more attention to his mate. Geo never had kids with Pinky, they only babysit Sammy. Geo never will try to kill Unknown, he is immortal. Geo is Unknown's half-brother. Geo's parents are Ice and Spike, his sister is Dash. Her mate is Fire. Geo eats all his supper but refuses to have dessert, even if it's his favorite like caramel melts. Geo hated Kaul at first, but he got used to him. Pinky loved Geo in the first glance at him. Geo pays more attention to xStep than any other game on Geometry Dash. Geo goes inside his tablet and plays with Geo1andOnly. These are basic facts you must know about Geo to get this wiki, I mean really. Basic!
Geo and Kaul
Edit
As you know, Kaul likes having Geo around. Ever since Geo met Kaul, his life changed.
                           How Geo met Kaul

Geo ran away from his birth town and ran into the canyons. It is mentioned in my beta wiki in ColorNote that he dies at the end, this is not true for he is living for Pinky and his mateship. Kaul never realized that Geo never liked him, but Geo just copes with him for he is really not that bad! Kaul hated Pinky at first, but when Geo and Pinky became mates, Kaul had to deal with it.
                                    How Kaul Reacted When Geo Loved Pinky

Kaul hated having Pinky around. Pinky at first was scared of Geo, because how scarred he was and how tall, but Geo comforted her, leaving Kaul angry at Geo for not feeding him much. Geo then returns and finds Unknown and asks him if they can stay at his house. Unknown agrees. Pinky feels unconfortable staying at Unknown's house, and she asks Geo when they can leave. Geo declines. Pinky presses on her friend sadly. Kaul then presses on her softly and Unknown snorts. Geo then glares at the hefty he-metric and Unknown snorts again, sending rice flying out of his nose. Geo laughs meanly and Pinky hugs him. Geo becomes Pinky's mate somewhere between Unknown's Vengeance. Unknown laughs at the whole thing, and Geo jumps on him, making him look stupid. Unknown now hates Geo, and Geo hates him. Geo: How dare you do that, you big-headed arrogant Metric!" Unknown: Come at me, half-bro."